...is capes. And to be honest, I have no idea where this came from as even just a few weeks ago I thought they were tacky and impossible to pull off. But now I find myself lusting after them!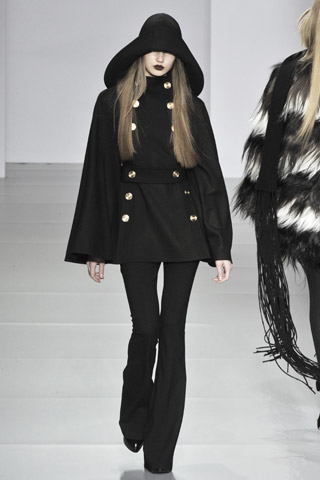 I imagine that they probably aren't the warmest option when it comes to cold weather outerwear (I probably wouldn't wear one in the winter), they also probably aren't the easiest thing to wear, but they are seriously cute, and that's what matters, right?
LOVE the zipper on this one!
So, thinking ahead to spring (unless I can settle on one soon) I think I need to make one of these. However, an initial pattern search with the "Big 4" comes up a little flat.
Seriously Vogue? Seriously?
There were a few that I found that were
almost
what I can see in my head, but I think I'm going to go searching some of the indie designers to see what I can find before I go with something almost right and tweak it.
What do you think of capes as outerwear? Impractical or awesome?